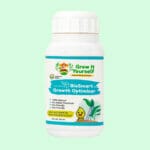 Growth Optimiser
Because Your Baby Plants Must grow!
Organically enhances Plant Growth.
All sustainable, 100% natural ingredients.
Description
When to use it?
It can be used regularly to boost plant growth for almost all kinds of plants.
How to use it?
Take 2-4 ml per litre of water and apply either to the root medium or spray it on the leaves to enhance the growth of plants under normal and adverse conditions. Use it once a week for the best results.
How does it help?
It boosts Crop growth by naturally enhancing photosynthesis, which helps the plant produce more energy in the form of sugar, resulting in more leaves. And, plants experience enhanced enzymatic activities, particularly when you spray the growth-optimizer during the growth phases of plants.