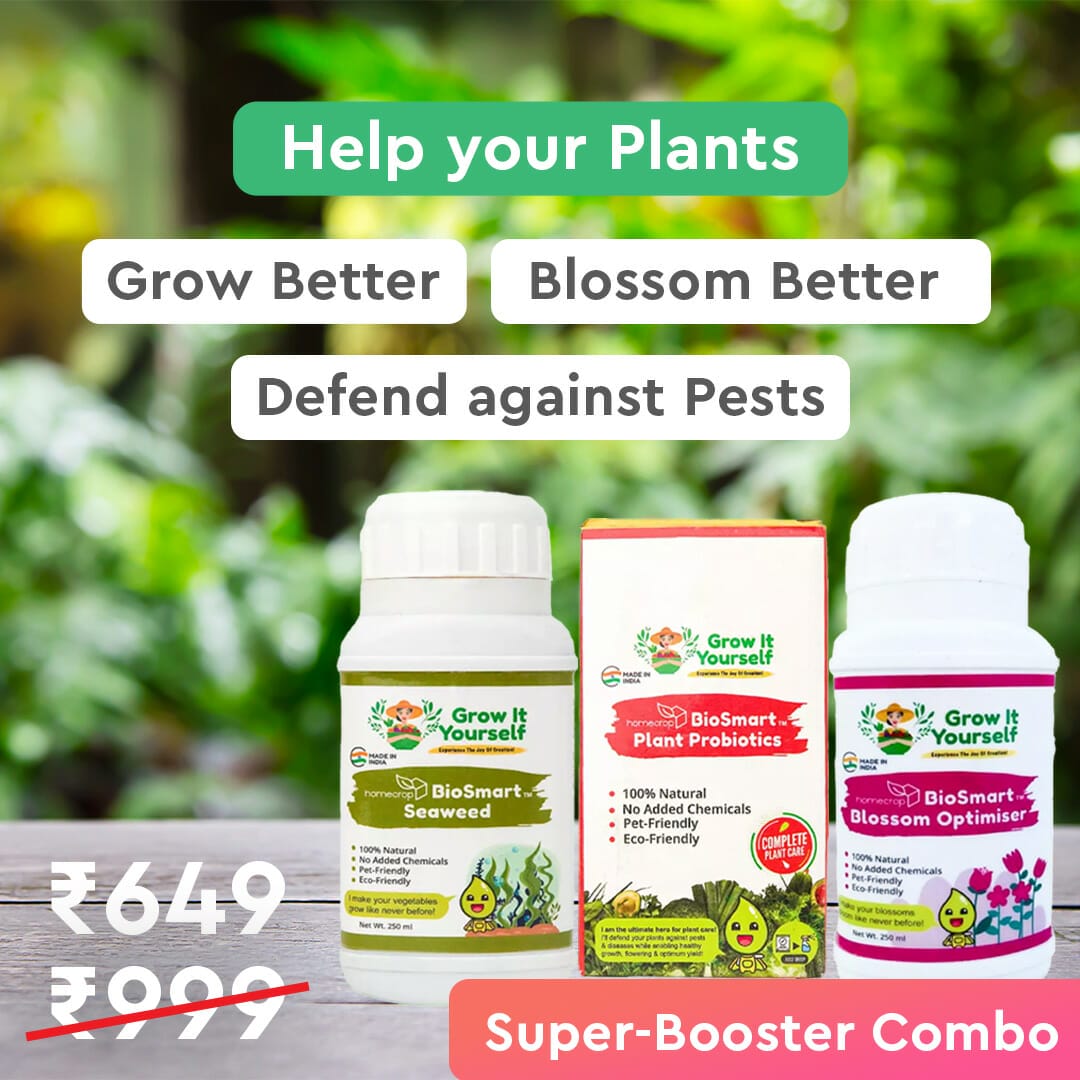 Plant Super-Booster Combo
Get the ultimate Super-Booster Combo for your plants!
Complete plant care & pest management
Get more flowering & blossoms
Increase plant growth & yield
Protect plants from diseases
Build immunity from pest attacks
Improve overall plant health from the sapling stage onward
All sustainable, 100% natural ingredients. Eco-Friendly. Pet-Friendly.
Includes: 10 Pouches of Plant Probiotics; 250 ML of Blossom Optimiser; 250 ML of Seaweed Liquid Concentrate
Description
Instructions for Plant Probiotics
When to use it?
Plant Probiotics should be used regularly to maintain overall plant health starting when the plants are at the sapling stage.
How to use it?
Drop 1 water-soluble pouch in a 1-litre water Sprayer can and shake it well to dissolve the pouch and ingredients. Spray the liquid with plant probiotics as a foliar spray. Use one pouch per week to spray on the plants.
How does it help?
Plant probiotics are naturally packed with good bacteria and fungus derivatives that support plant and soil health, increase nutrient uptake and promote plant resilience.
What sort of diseases does it help?
With regular application, plants can develop immunity from mould or other pathogens and are even better equipped to deal with insect attacks.
Instructions for Blossom Optimiser
When to use it?
Generally, the best time to use the blossom optimiser is when the plants are about to flower.
How to use it?
Take 2-4ml optimizer liquid per litre of water and spray it on the plants. Use once a week for best results.
How does it help?
Blossom optimiser, loaded with organic carbon stimulates and promotes plant root growth and reduces the biotic and abiotic stress or pressure that a plant goes through during flowering.
Instructions for Seaweed Liquid Concentrate
When to use it?
Given the composition of the seaweed extract, you can use it regularly for the best results.
Fun Fact: Applying it 7-10 days before budding, or applying it 10 days before harvesting can extend the shelf life of fruits and vegetables.
How to use it?
Seaweed concentrate can be used either with a foliar spray or applied directly in the soil, near the plant centre. Use 2-4ml per litre of water as foliar spray or root zone application. Use once a week for the best results
How does it help?
Seaweed liquid concentrate activates the good bacteria present in the soil, which are crucial for better growth of the root system, resulting in greater length and branching in roots. And this, in turn, increases the mineral absorption in plants.
It also helps to overcome the post-transport crisis and increase production with uniformity in fruit size.