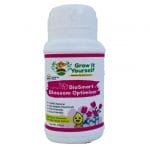 Blossom Optimiser
True to its name, Blossom Optimiser makes your garden bloom.
Ensures more flowering and improves organoleptic properties like shine, odour, colour, taste and nutritional properties.
All sustainable, 100% natural ingredients.
Size: 250 ML
Description
When to use it?
Generally, the best time to use the blossom optimiser is when the plants are about to flower.
How to use it?
Take 2-4ml optimizer liquid per litre of water and spray it on the plants. Use once a week for best results.
How does it help?
Blossom optimiser, loaded with organic carbon stimulates and promotes plant root growth and reduces the biotic and abiotic stress or pressure that a plant goes through during flowering.