Grow & Harvest Fresh Vegetables All Year Round
Our all-inclusive vegetable grow kits make growing your own fresh, organic vegetables super easy.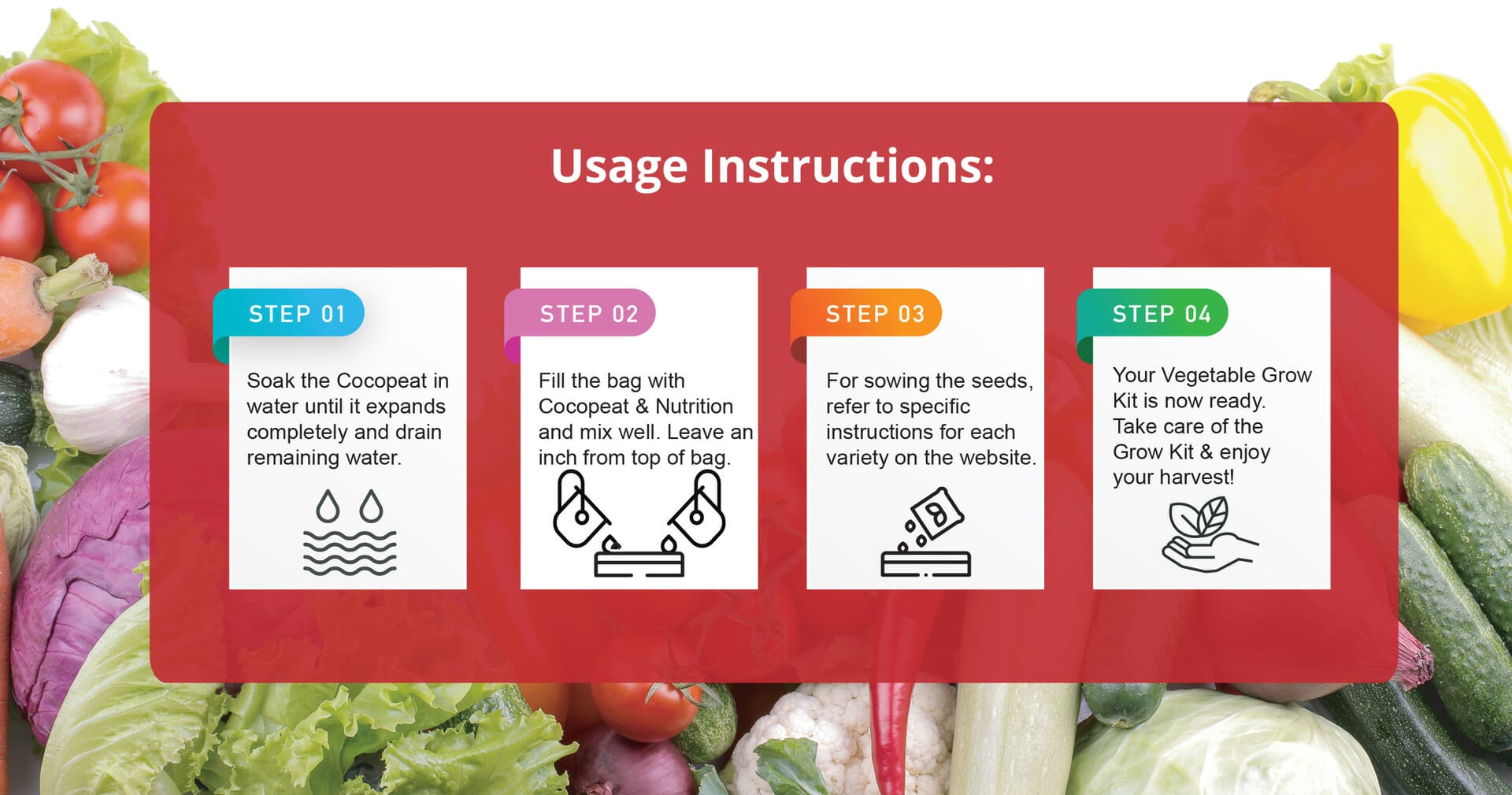 Frequently Asked Questions
---
The bag is porous in nature which drains out the excess water effectively. There is no need add any additional holes. However, the mix remains intact.
b) Nutrition Brick and Cocopeat Brick
Yes, the seeds given are 100% non-GMO.
Add back the remaining seeds into an air tight zip lock cover to prevent moisture or air from entering into the cover, which otherwise can drastically reduce the rate of germination.
Identify a place that receives at least 4-6 hours of direct sunlight, which is the most important pre-requisite for growing vegetables. Furthermore, please ensure the place doesn't attract any uninvited guests like pigeons and monkeys
If your bag is placed in a place with less sunlight, plant growth will be extremely slow. Furthermore, its ability to produce flowers and vegetables will be reduced. If your bag is placed in a place that receives no sunlight, your plant will die in less than 14 days after germination!
Your planter will grow well in normal temperature ( 21-30°C). Keep in mind that in higher temperatures, your planter will need more water to keep growing. Additionally, if temperatures are very low most of the day, your seeds may be slow to germinate.
---
You can gauge roughly using the shadow test:
Around mid-day, place your hand ~1ft above where your plant will sit and spread your fingers wide.
Look at the shadow cast by your hand. A well-defined shadow means your light is strong, while fuzzier and fainter shadows mean you may need to supplement it with a grow light.
Yes of course. You can use the bag with the mix multiple times. However, before sowing new seeds or planting a new plant, solarize (sun-dry) the mix for two days and add nutritional supplements (https://homecrop.in/resources/) to the mix to replenish the nutrients that were used by the previous plant. That's all it's now ready for the new plant!