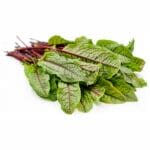 Sorrel Leaves Seeds (Red & White)
₹30
Also known in India as Gongura.
Sorrel leaves are grown mainly from March to May and September to October and can be harvested as a microgreen, baby leaf, or mature salad green.
Pest & Disease Control
Special Instructions
Description
Reviews (0)
Sorrel Leaves are generally safe from pests and diseases, however using HomeCrop's Plant Feed for maximum yield is advisable.
Space Between Seeds: Sow seeds, 1 to 2 inches apart in the beginning. Then successful thin seedlings to 10 to 15 inches
Description